Make your own bulk CBD Isolate!
Give yourself an edge over your competition  with:
Proven Equipment Used To Make CBD Isolate

Methods And Processes To Get You Producing On Day 1

Education To Make Sure You Stay Up To Date On The Industry
Bulk CBD Isolate Equipment Package
What is CBD Isolate Powder?
CBD Isolate powder is different from CBD Distillate in its formulation, composition, and appearance. When CBD isolate is created it is most commonly in powder form as opposed to distillate in full-spectrum products. The primary difference between CBD isolate powder and CBD distillate is how refined the extract is. CBD isolate powder is as it sounds – pure CBD – rather than a spectrum of cannabinoids and plant compounds contained in full spectrum extract products.
Watch this webinar where we discuss CBD Isolate.
How to Make Bulk CBD Isolate
CBD crystals are made by precipitation in a nonpolar solvent, which involves dissolving distillate into the solvent, cooling the solvent down to induce precipitation of CBD, washing the crystals, and then removal of the nonpolar solvent.
When using jacketed stirred reactors, crystallization and precipitation processes can be used to produce several hundreds of kg of crystal CBD isolate. Just like in the winterization process, the amount of solvent used is less than when compared to the solvent required for extraction.
Crystal production rooms can be designated as separate control areas, making the amount of solvent in the room and building more manageable. Other cannabinoids can be crystallized by similar precipitation.
Typically, an ethanolic extract is subjected to very low temperatures thus causing precipitation of the crystals. Just like CBD crystals, they're washed and then the solvent is removed
How Does CBD Isolation Work?
CBD isolation from hemp is an important manufacturing process that is used to make CBD isolate powder or CBD crystals. CBD isolate is a purified form of hemp and is derived from industrial hemp. CBD isolation can also take the form of broad spectrum distillate which is a distillate without any detectable delta 9. CBD isolate powder manufacturing involves two different potential techniques:
Chromatography: The first technique is chromatography which separates out the CBD from other cannabinoids while maintaining the phytonutrients, terpenes, pigments, and natural plant components that are thought to contribute to the entourage effect. This method, however, results in broad spectrum extracts – not true CBD isolate.
Crashing: The second CBD isolate manufacturing technique involves crashing out the CBD from the matrix to produce a crystal. This results in a true CBD isolate product and is the best method for bulk CBD isolate powder production.
Full Bulk CBD Isolate Manufacturing Process
CBD isolate powder manufacturing is a specialized and technical process that fits within the overall hemp manufacturing process. The process involves:
Growing quality hemp flower biomass that has less than 0.3% THC
Harvesting & drying the flower so that it can be extracted
Grinding of the hemp to 200-300 microns
Decarboxylating the hemp to activate the cannabinoids
Supercritical CO2 Extraction of the hemp to produce CBD hemp extract
Dewaxing and winterization of the extract to make hemp oil
Solvent removal from the winterized CBD oil extract
Refining of the hemp into CBD distillate
Production of bulk CBD isolate by making CBD crystals for formulation of products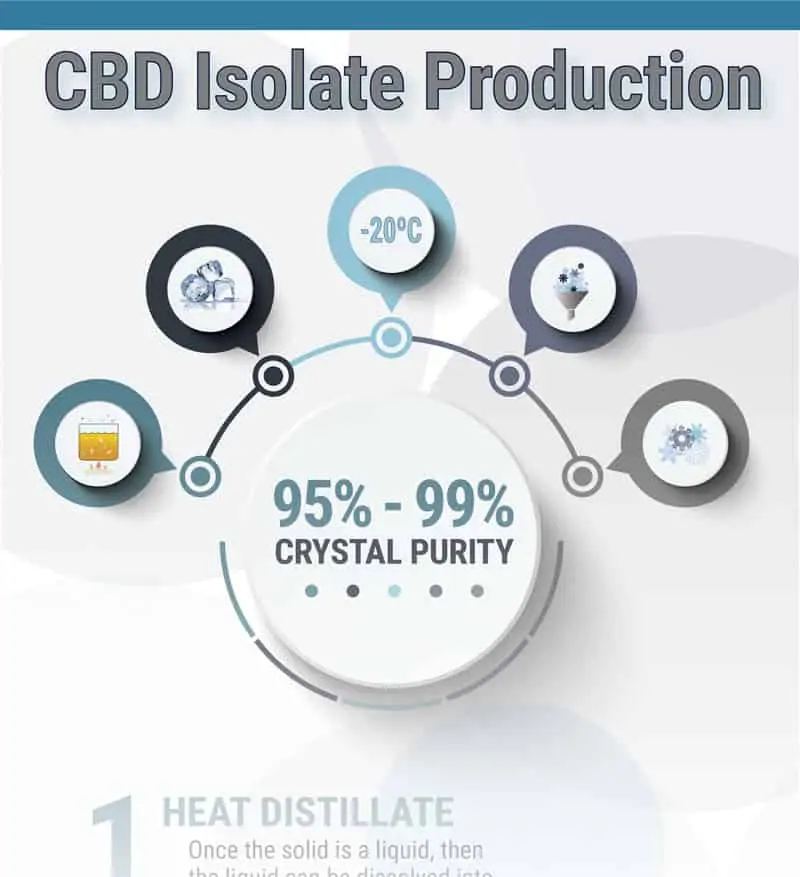 Isolate Powder Process in Detail:
Looking at the process of CBD isolation in more detail after the manufacturing process are these steps as follows:
The starting distillate material is heated in order to make the solid a liquid. The liquid can then be mixed, heated and dissolved into an organic solvent.
Once the distillate dissolves the oil, a chiller is turned on and begins to cool the mixture while stirring.
After waiting for about an hour, the solution will cool to temperatures below -20 degrees Celsius.
Once the precipitation is completed, crystals are filtered from the solution and are washed in cold solvent.
The crystals are removed from the filter and are dried under vacuum to remove the solvent.
Bulk CBD Isolate Equipment Package
This 50L reactor Package is tailored for Bulk CBD Isolate production.
Equipment:
50L crystallization reactor
Ultra Low Temperature reactor chiller & heat transfer fluid
Distillate Preheating water bath
DrainDroyd Starter kit
DrainDroyd Octolid
Pharma Grade Cone Mill Grinder
20L Rotary Evaporator, chiller, vacuum pump
50L Rotary Evaporator
Process connections and tubing
Features
Bulk CBD Isolate Equipment Package
Includes information, tips and instructions for use 
Production Training Videos
Lab Scale Kit
Certifications: UL Listed Equipment, CE, ATEXII
Installation & Commissioning
Training and SOPs
Proprietary formulation methods and processes for Delta 9 removal from CBD distillate using crystallization process
THROUGHPUT:  1.9kg Per Hour
Get in touch with our team to request a quote, learn more about our training or get help with your business plan.
We are dedicated to providing you with the best advice, quality and service in the industry.
Frequently Asked Questions
What is CBD Isolate?
CBD isolate is pure CBD removed from other cannabinoids, terpenes or other plant compounds. Isolate is typically a crystalline white powder created from distillate via the isolation process that remediates all other compounds leaving a pure CBD derivative.
How is isolate used?
Because CBD isolate has already been decarboxylated and is in a powder form, it can be used in a variety of ways. It can be reformulated into an oil, added to drinks and foods, or taken directly as it is making it a very versatile CBD extract.
What are the steps to make CBD isolate?
In order from start to finish, the steps to make CBD isolate are: Extraction, winterization, distillation, isolation, filtration, washing, drying. After this point, the isolate can be sold wholesale as is, or formulated into a number of various products.
What are the benefits of isolate?
Because isolate is pure CBD, it is the most potent form of CBD product on the market. This also means that there are no detectable levels of delta 9 in the final product which may be the best option for some consumers. Isolate is also incredibly versatile and can be used in a variety of products and is easy to control dosage.
What's the difference between Isolate and Broad Spectrum Distillate?
– BSD: THC Non-Detect Oil
– Isolate: THC Free CBD Crystal Isolate Powder
What's the potency of CBD Isolate?
What room rating is necessary for an Isolate Lab?
Must be in a separate enclosed properly ventilated room
Can we separate CBG, CBN, other cannabinoids with this lab setup?
As of right now we only provide methods for CBD Isolation
How many employees would you suggest and what kind of knowledge do they need for this lab?
1 employee unless you are on a very large scale. They will need experience in the industry as the isolation process is a lab setup that requires following multiple steps with some complicated lab equipment
Do you provide training?
Yes we will provide the methods and training with the Isolate Lab purchase.