Keep production moving forward with a non-stop CO2 supply.
The CO2Cage is a CO2 supply vessel that holds your business's bulk gas or liquefied gas via 16 integrated and manifolded 100 lb DOT-approved gas/liquid cylinders. This tank bundle is typically used in applications where the installation of refrigerated bulk tanks is not feasible or available.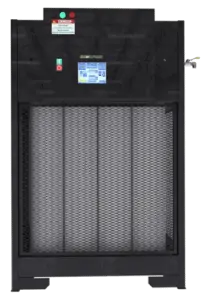 CO2Cage Specifications
The CO2Cage is rated for indoor use. All tanks are USDOT and TC rated. All applicable standards for use in the United States and Canada under the USDOT PHMSA and Transport Canada Reciprocity Agreement.
Our cylinders are registered and marked with approved DOT specifications and UNISO standards (for example DOT-3AA, DOT-4BA, ISO 9809-1) to be filled, transported and used in Canada, or conversely, registered TC specification cylinders or approved UNISO standards (for example TC-3ALM, TC4BWM, TC-4LM, ISO 7866) to be filled, transported and used in the US.
| | |
| --- | --- |
| Attribute | Value |
| Tare Weight (lbs) | 3500 |
| Dimensions (in) | 51 x 51 x 81 |
| Inlet | CGA 320 male |
| Outlet | 1/2″ NPT |
| MWAP (psi) | 3,000 |
| Single Phase | 208/240 Volts |
| HMI | Touchscreen |
MPCart Specifications
​
| | |
| --- | --- |
| Attribute | Value |
| Dimensions (in) | 48 x 18 x 35 |
| Cord Length (ft) | 120 |
| Inlet (psi) | 300-350 |
| Fill Hose Connection | CGA 320 |
| Maximum (RPM) | 1,750 |
| Single Phase | 208/240 Volts |
| Electrical Plug Type | HBL2621S |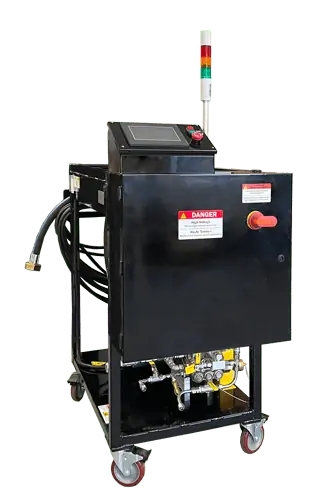 CO2 Supply Solution Features
The CO2Cage Tank Bundle
The CO2Cage Tank bundle offers the following advantages:
Touchscreen display on equipment HMI panel for easy monitoring and programming
Programmed visual and audible alarms and warnings and reports
Regulation Compliant
Single Inlet and Outlet for fill and use
Multi-fill manifold
Integrated Scale
Designed to be moved with a forklift
Design Standard: DOT 3AA / TC3AAM
May be filled on-site or off-site according to CGA G6.4_4 and EIGA IGC 83/08E
Load the bundle by weight as per CGA method
Optional Pump Cart to up your psi for filling the cylinders
Carbon is widely used in the cannabis extraction industry for color remediation and purification of ethanol extracts. Its selectivity for certain color compounds over others makes it a popular choice to enhance the purity, stability, and overall quality of cannabis...
Get in touch with our team to request a quote, learn more about our training or get help with your business plan
We are dedicated to providing you with the best advice, quality and service in the industry.
"*" indicates required fields
Our Unique Strengths, Your Success